Top 5 Overlanding Spots in Southern California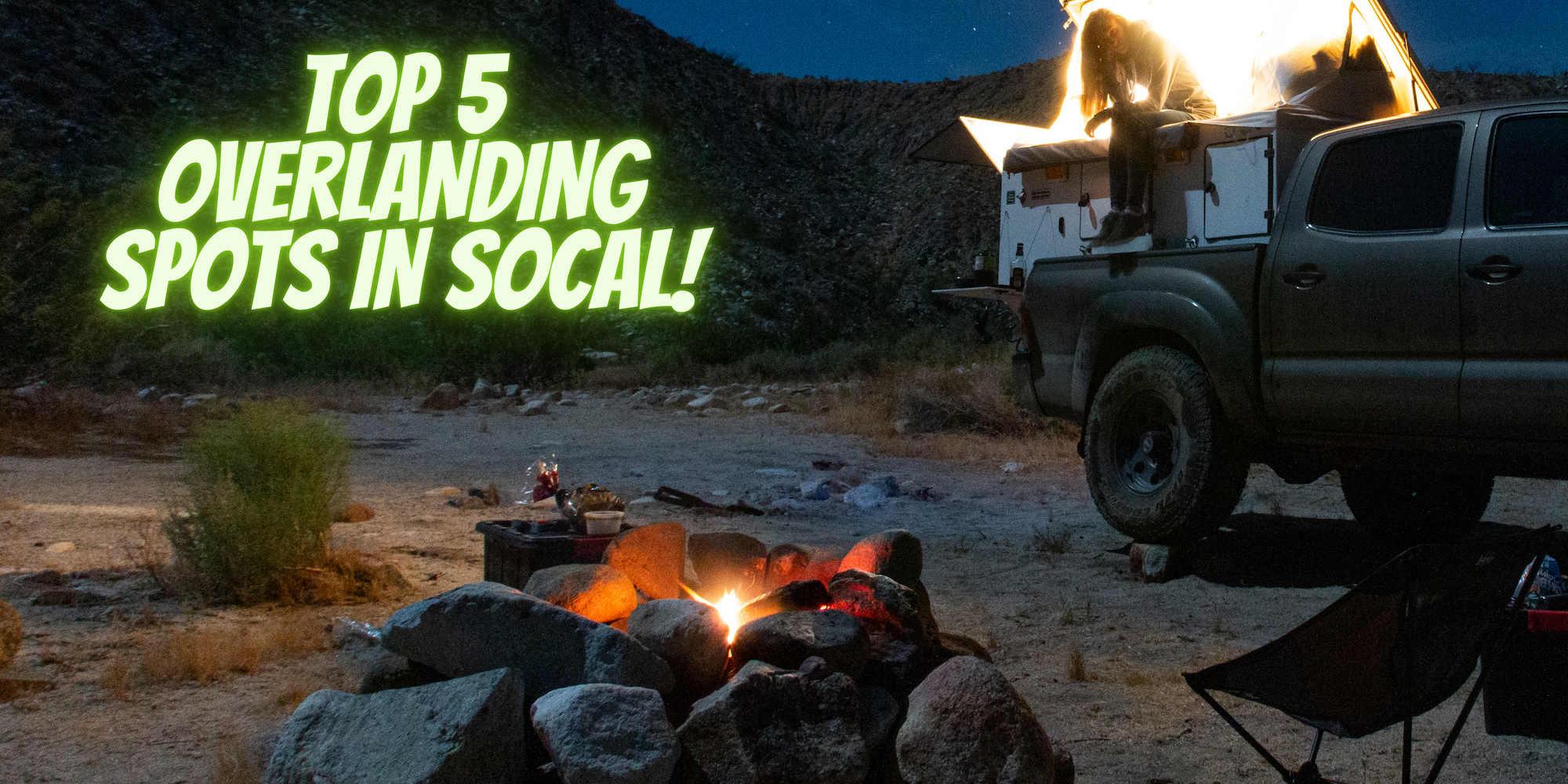 Southern California is a paradise for outdoor enthusiasts, and overlanding aficionados are no exception. With its diverse landscape, ranging from deserts to forests and mountains, there's something for everyone. In this blog post, we'll highlight the top 3 overlanding spots in Southern California that you must explore on your next adventure.
1. Anza-Borrego Desert State Park
The Anza-Borrego Desert State Park is the largest state park in California, spanning over 600,000 acres. This vast desert landscape offers overlanding enthusiasts countless opportunities for exploration, adventure, and solitude. The park has several designated off-road trails that cater to various skill levels, from beginner to expert.
One of the most popular trails in the park is the Coyote Canyon Trail, which is a 14-mile route that takes you through canyons, creeks, and panoramic vistas. Another favorite is the Truckhaven Trail, a more challenging off-road experience with steep hills and loose terrain, perfect for seasoned overlanders.
Campgrounds are available throughout the park, providing a chance to enjoy the stunning desert sunsets and stargazing in the clear night skies. Make sure to check out the park's visitor center for information on trail conditions and safety guidelines.
2. Big Bear Lake
Located in the San Bernardino Mountains, Big Bear Lake is an outdoor haven offering a variety of activities for all seasons. For overlanding enthusiasts, the area surrounding Big Bear Lake is packed with off-road trails and beautiful campgrounds.
One of the most popular trails is the Gold Mountain Trail, a 7-mile route that traverses the mountainous terrain and offers breathtaking views of Big Bear Lake and the surrounding valley. The John Bull Trail, on the other hand, is a more challenging option, requiring high-clearance 4x4 vehicles and offering a true test of off-road skills.
There are several campgrounds around Big Bear Lake, such as Serrano Campground and Holcomb Valley Campground, which provide a perfect basecamp for your overlanding adventures.
3. Mojave National Preserve 
 The Mojave National Preserve is a vast, nearly 1.6-million-acre expanse of desert landscape, nestled between Los Angeles and Las Vegas. Its unique geology, diverse plant and animal life, and rich history make it a must-visit destination for overlanders.
The Mojave Road is one of the most iconic overlanding routes in Southern California. This 138-mile historic trail traverses the heart of the preserve, taking you through diverse landscapes, from sand dunes to volcanic formations. The Afton Canyon, often referred to as the "Grand Canyon of the Mojave," is another must-see, featuring stunning geological formations and a rare desert riparian habitat.
There are numerous dispersed camping spots throughout the preserve, as well as established campgrounds like Hole-in-the-Wall and Mid Hills Campground. Always practice Leave No Trace principles to preserve the fragile desert ecosystem.
4. Los Padres National Forest
Los Padres National Forest, located along California's Central Coast, encompasses over 1.75 million acres of land, including lush forests, rugged mountains, and scenic coastlines. With its vast network of trails, it's a favorite destination for overlanding enthusiasts.
Some popular routes in the area include the Lockwood Creek Trail and the Miller Jeep Trail. Lockwood Creek Trail, a 9-mile long route, offers a mix of moderate and challenging sections, while the Miller Jeep Trail is a 12-mile stretch that will test your off-roading skills with its rocky terrain and steep inclines.
There are numerous campgrounds and dispersed camping opportunities throughout the forest. Be sure to check the Forest Service website for current trail conditions and any potential closures before embarking on your adventure.
5. Joshua Tree National Park
Joshua Tree National Park, named after its iconic Joshua trees, is a unique desert landscape that straddles the Colorado and Mojave deserts. While the park is known for its stunning rock formations and star-filled night skies, it also offers several off-road trails for overlanding enthusiasts.
Geology Tour Road is a 17-mile, unpaved route that winds through the park's incredible rock formations and provides a fascinating glimpse into the region's geological history. Old Dale Road, a 25-mile trail, takes you through rugged desert terrain and provides access to several historic mine sites.
While the park itself does not have many developed campgrounds, there are several options just outside the park, including the Joshua Tree Lake RV & Campground and the Jumbo Rocks Campground. Make sure to obtain a backcountry permit if you plan on camping in the park's designated backcountry camping areas.
---
From the vast Anza-Borrego Desert to the stunning landscapes of Los Padres National Forest and Joshua Tree National Park, Southern California is a dream destination for overlanders. So gear up, hit the trails, and discover the diverse beauty of this incredible region.